For several editions, BBF has been inviting internationally renowned breweries to create an exclusive beer for it which can be tasted over the course of the festival. Breweries such as The Alchemist, Stone, Evil Twin, Mikkeller and Stillwater have taken up the challenge in different editions, pondering and creating a beer inspired by Barcelona and the festival.
BBF's relationship with the Quebec beer scene goes way back thanks to a long friendship and twinning with the Chambly Biéres et Saveurs festival.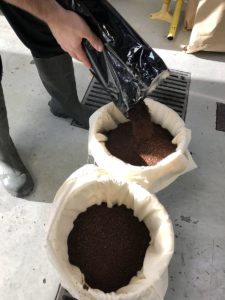 We've been able to meet loads of brewers there and discover an interesting beer scene brimming with life. We've always got on especially well with our friends at Les Trois Mousquetaires – a world-renowned brewery that makes some wonderful beers worth trying – in particular.
LTM's most famous beer is their 'Baltique Porter' – an extremely high-quality and rare style that they've popularised. The use of lager yeast gives this style its characteristic lack of cloudiness while allowing it to retain its complexity as a 10% beer packed full of roasted malt. They've experimented greatly with the beer and made versions aged in different barrels that have previously contained various liquors.
But what's even better than reading a short interview with Christian, co-founder of LTM and creator of the Baltique Porter – Edition Barcelona? Remembering that you can try it at the festival and partnering bars and, if you're one of the lucky first few, you can buy one of the few bottles available at the shop! Cheers!
– Tell us more about the special edition of BBF20. Which beer can we find? Where do you get the inspiration from?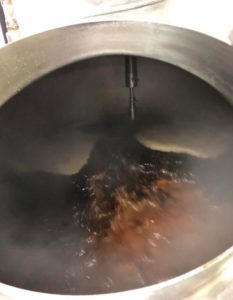 We are very proud and have the pleasure to be the official beer for the Barcelona Beerfest 2020. The beer we have done is something that we never made. It's our Porter Baltique (our flagship and well-known beer) that we had lactose and coffee in it. We had the lactose in the brewing process. We also had an amount of coffee during the boil process. After the fermentation, we had an others amount coffee using a cold brew method (cold beer is infusing with the coffee). With this method, you only get the fresh and fruity side of the coffee and not the burn side when you use hot water. I hope people will enjoy that beer !!! Cheers !!!!
– Les Trois Mosquetaires is a well-known brewery in Barcelona but can you tell us a brief history of the project?
LTM brewery exists since 2004 founded by 3 friends who lost their job because the company where they were working at decided to close his operation in Montreal. They decided to create the LTM brewery and start to brew some fresh and good craft beer. Toward all these years, we start to export beer toward the world. We have been approached by the people from Gourgo who want to bring our beer in Spain and Barcelona. So we start to send few of our beer in Spain. Later on, festivals since Bières et saveurs Chambly make an association with the folk of the Barcelona beerfest. Since 2017, we participate to the BBF and we sent a few nice beer kegs to the festival and I have been 2 times in person for the festival. That will be my 3rd time this year. We also make collaboration with Barcelona brewery (La Pirata) and the beer was poor here in Québec during the Bière et Saveurs beerfest. I had the chance to meet the awesome people from the organization of the BBF during my trip in Barcelona and during the beerfest in Québec also.
– It will be your third time in Barcelona. What's your impression of the festival and the beer scene here?
BBF is a really nice beer festival, toward my few years in the craft beer industry, I made a lot of beer festivals and people from Barcelona can be proud of their beer festival, they have one of the best that I've seen. People have access to some really world best beer and can taste it. The beer scene in Barcelona have exploded since the first time I went there. People can also be proud of the beer that they can find in Barcelona, you have people really good brewery that makes awesome beer. The IPA scene is also really good, fresh and tasty !!! I've been to a year in a row and between that lapse of time I really saw something growing in the Barcelona beer scene. I'm really looking forward to my third trip to Barcelona, we will see you in March !!!!!